You are here
In remembrance
Obituary of Prof. Horst Strobel
Dresden expert for traffic process automation and system analysis shaped teaching and research at the former HfV and later Faculty of Transport and Traffic Sciences "Friedrich List.
The "Friedrich List" Faculty of Transport and Traffic Sciences  remembers Prof. Dr.-Ing habil. Dr. h.c. Horst Strobel, who passed away on May 31, 2023 at the age of 86. He was a formative personality for the former Hochschule für Verkehrswesen "Friedrich List" (HfV) and, from 1992, for its successor institution, the "Friedrich List" Faculty of Transport and Traffic Sciences at TU Dresden. He remained closely and interestedly connected with the faculty until the end.
Throughout his career as a scientist, university lecturer, vice rector and rector, Horst Strobel has rendered outstanding services to the further development of automation and simulation technology in transportation. He is considered one of the pioneers of systems analysis. In 1989/91, he served as Vice Rector and Rector of the Hochschule für Verkehr "Friedrich List" Dresden.
One of his greatest successes as a scientist was the acquisition of the BMBF lead project "Intermobil Region Dresden: Intermodal mobility assurance in medium-sized conurbations through the integration of innovative telematics, rail and control technologies" at the TU Dresden. He prevailed over 154 competitors for the project throughout Germany. During the entire project period from 1999 to 2004, he was available as scientific project manager, although he was already retired in 2003 when he reached the age limit.
During his time as a university lecturer, he guided around 50 doctoral students to their doctorates. Well-known industry experts, scientists and several professors have emerged from their ranks.
Studies and doctorate
Horst Strobel's entire scientific life was closely connected with the TU Dresden and later with the "Friedrich List" Hochscule für Verkehrswesen in Dresden.
Born in 1936 in Woltersdorf near Magdeburg, after graduating from high school in 1954 he completed a one-year preliminary internship at the Berlin-Treptow Signal and Safety Engineering Plant (WSSB). This was followed by studies in electrical engineering at the Technical University of Dresden with the newly established specialization in control engineering. In 1961, he graduated with a degree in control engineering.
After completing his studies, Horst Strobel worked as a research assistant, assistant and senior assistant in Dresden at the German Academy of Sciences in Berlin from 1961. Here he was involved in setting up the then new research field of "Experimental System Analysis and System Identification". At the same time, he worked on a subject-related dissertation, with which he received his doctorate in engineering from the TU Dresden in 1966.
University lecturer, researcher and developer at the HfV Dresden
In 1967, Prof. Strobel was appointed as a university lecturer for control engineering at the Hochschule für Verkehrswesen (HfV) in Dresden. In 1974 he was appointed full professor for control engineering and process control. In addition to his professorship, he was a research scholar at the International Institute for Applied Systems Analysis (IIASA) in Laxenburg Castle near Vienna from 1974 to 1982. This was the only East-West institute outside the UN, founded on the initiative of the USA and the Soviet Union during the Cold War as a bridge between scientists in 1972 and headed at that time by Professor Howard Raiffa (Harvard). Horst Strobel led his own research project at Laxenburg Castle, organized international conferences on the subject (including one in Vienna in 1977) and study trips to Japan and the USA. In the latter he gave a lecture at the IFAC World Congress in Boston in 1975.
This activity was followed by a new vocation: Between 1982 and 1986, he was director of the newly founded Berlin "Center for Process Automation (ZPA)" at the "Central Research Institute of Transportation (ZFIV)". Here he dedicated himself to the practical transfer of microcomputer-controlled system solutions. He had previously laid the foundations for this at the HfV in Dresden.
At the HfV, Prof. Horst Strobel designed and implemented the "Technical Center for Process Control and Simulation Technology" from 1975 to 1980. The work of his research team focused on microcomputer control systems for specific applications in transportation. A second expansion stage of this facility under the name "Technikum für Automatisierungstechnik" was completed in 1982. The simulation laboratory became a traffic engineering microcomputer laboratory. The research results derived from it were used for the development of innovative traffic service and traffic engineering equipment and systems (in some cases worldwide innovations). These included:
Ticket vending machines as a world first: 400 installed MDA vending machines (with microcomputer control and interactive on-screen dialog) at the Deutsche Reichsbahn (DR) in Berlin, Leipzig, Dresden and a further 150 stations (for approx. 5,000 ticket types per vending machine)
On-board computer for energy-optimized train operation at the Berlin S-Bahn and the S-Bahn in Halle (Saale)
Microcomputer control of aircraft emergency interception systems for aircraft of type MiG-21, MiG-23, MiG-29, Phantom F-4
Traffic dependent control of light signal systems (networked traffic light systems)
Software development for the ATMs with cash card reader of the former State Bank.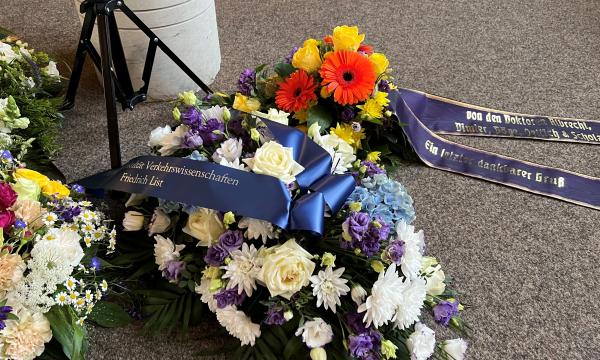 Prof. Oliver Michler, Prof. Jörg Schütte and Senior Professor Ulrike Stopka attended the funeral of Prof. Horst Strobel on 15 June 2023 at the cemetery Radebeul-West as representatives of the faculty. They brought a memorial wreath from the "Friedrich List" Faculty of Transport and Traffic Sciences.
Reunification period and work at the new "Friedrich List" Faculty of Transport and Traffic Sciences, TU Dresden
During the reunification period in 1989, Horst Strobel became Vice-Rector for Research at the HfV. After the resignation of the then rector in January 1990, Prof. Strobel took over the office of rector for one year from February 1 until the appointment of his successor Manfred Zschweigert.
In the fall of 1992, the Hochschule für Verkehrswesen was dissolved. Part of it was incorporated into the Technical University of Dresden as the new "Friedrich List" Faculty of Transport and Traffic Sciences. Horst Strobel remained at the new faculty until his retirement as head of the professorship "Traffic Control Systems and Process Automation" of the Institute for Traffic Information Systems.
In addition to his work at the Faculty/TU Dresden, Horst Strobel also forged close ties with another formative scientific institution in Dresden: He took over the management of a research group "Traffic Control and Traffic Information Systems" in the Dresden area of the Fraunhofer Institute for Information and Data Processing Karlsruhe. Between 1992 and 2005, his work supported the establishment and development of an independent Fraunhofer Institute for Transportation and Infrastructure Systems (FhGIVI) in Dresden - now known as Fraunhofer IVI.
The research results of Horste Strobel and his team have found their way into numerous book publications, which have also been disseminated internationally, as well as into more than 100 publications in specialist journals and accompanying publications to international conferences. He is also involved in several patents.
The memory of Horst Strobel as a dedicated and innovative scientist will always be honored at the "Friedrich List" Faculty of Transport and Traffic Sciences at TU Dresden. Our sympathy goes to his grieving relatives.
On behalf of all colleagues and staff of the "Friedrich List" Faculty of Transport and Traffic Sciences
Prof. Dr.-Ing. Regine Gerike, Dean
Dresden, June 2023
(Source note: For the presentation of the life and work of Prof. Horst Strobel in this article, the editors also consulted the Wikipedia article about him).