You are here
International exchange in research and science
Transport Expert from Ghana is Humboldt Fellow
Jack Awuku Asare calls himself a "Sustainable Transport Enthusiast" - and as an advocate for sustainable transport and traffic, he has a mission.
"I want to show my compatriots in Ghana and developing countries the need for sustainable transport options and alternatives to the private car and get them to rethink and, above all, to switch." This takes a lot of perseverance and a lot of persuasion backed by good arguments and ideas. The 35-year-old expert for infrastructure solutions is currently equipping himself with these - as a Humboldt Fellow at the Chair of Traffic and Transportation Psychology at the "Friedrich List" Faculty of Transport and Traffic Sciences at TU Dresden (TUD). He was awarded one of the Alexander von Humboldt Foundation's International Climate Protection Fellowships 2021/2022. Since the beginning of March, he is in Dresden for a research year, supervised by Prof. Tibor Petzoldt and his team. His research focus is the "Development and promotion of soft transport policy measures and strategies for climate mitigation and protection in Ghana".
Targeted application for traffic and transportation psychology at TU Dresden
Climate protection and mitigation start in the mind. "Something has to change in the mind and behaviour first before anything changes on the roads," says Awuku. That's why he specifically chose the Chair of Traffic and Transportation Psychology at TU Dresden for his research year. Based on interviews and questionnaires, his research focuses on the characteristics and motivation that influence people's travel decisions. This data is supplemented by interviews with stakeholders and practical experience in Germany "to monitor soft transport policies and their impacts", he says. His main goal: "I want to gain a better insight into behavioural sciences and thus a better understanding of the causal mechanisms that enable voluntary changes in travel behaviour."
Status symbol car is biggest hurdle
Climate change, in the form of floods and droughts, is a pressing issue in Ghana. Considering and implementing sustainable transport options would be an important step for the country. If it weren't for the deep-rooted importance and meaning of the car in Ghanaian society: "Owning a private car is both a necessity and a status symbol," says Jack Asare Awuku, describing the situation in the emerging West African country. Unfortunately, older car models with high CO2 emissions are predominant on the country's streets. Walking or cycling are often relegated to leisure and sporting activities and rarely used as major transport modes. Shopping and school trips within communities, visits to family and friends - everything is dominated by private transport - even short distances of less than 2 kilometres. Jack Asare Awuku is not only concerned about the climate aspect but the social disconnection among people: "To be out and about together, spending time with each other, children talking on their joint daily walk to school, for example, also have a big social component. That is what is being lost for our children."
The scholarship holder is now interested in "how established ways of thinking and behaving can be broken down and awareness and acceptance for alternative, sustainable means of transport can be achieved". As a transport expert, living and working in Ghanas capital Accra, he has observed how "public resistance and lack of political will stand in the way of implementing a strict transport policy". Instead, huge investments are made in expanding large and wide roads and building interchanges for private cars as solutions for fundamental problems of transport demand management. "This is definitely unsustainable," he expatiated.
With his research and project work, Jack Asare Awuku would like to reverse this trend and, after his research year back in Ghana as a consultant, help to shape the future of the country in a sustainable and climate-friendly way. Prof. Tibor Petzoldt and his team at the Chair of Traffic and Transportation Psychology are happy to support him: "It is great to have Jack with us. He is very eager to learn, and we will do the best that we can to support him in his endeavour. At the same time, his knowledge of traffic and transportation in developing countries is much appreciated at the faculty, as it helps us to put the ,problems' that we in the developed world have into perspective," says Tibor Petzoldt.
First stay in Dresden had great influence on life's path
This is not Jack Asare Awukus first stay in Dresden. In 2014 he already spent 1 month at TU Dresden taking part in a short course on Sustainable Transportation at the Centre for International Postgraduate Studies of Environmental Management (CIPSEM). "I still dream of Dresden to this day. The first stay here and meetings and discussions with transport scientists, such as Prof. Udo Becker and Prof. Angela Francke, had a great influence on my subsequent career path. This is where the foundation for my professional and personal commitment to sustainable transport systems was laid," says Jack Asare Awuku, and his eyes light up.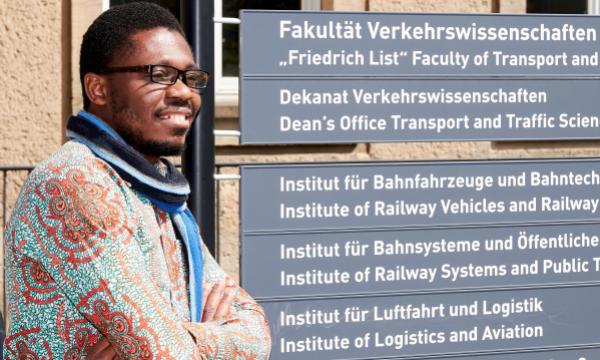 After completing his bachelor's degree in Civil Engineering in Ghana in 2008, he started working as an engineer on sustainable and innovative infrastructure and transport solutions, currently as a senior transportation engineer at DaovTech Design Group in Accra, which released him for his research year. In between, he completed a Master's degree with a focus on Transport Systems at the TU Munich from 2016 to 2018.
In his spare time, Jack Asare Awuku is involved in an advocacy group called "Share the Road", which works with schools and assist them about sustainability and transport. He says: "In order to fundamentally change something in Ghana with regard to transport, traffic and climate protection, we also have to start with the children and young people. They bring the new thoughts and ideas into their families and then, for example, demand that they no longer want to be driven to school by private cars, but take the bike or walk more. Change starts with the roots."
Humboldt Research Fellowship for Postdocs and Experienced Researchers
The Humboldt Research Fellowship for Postdoctoral Researchers and Experienced Academics is one of the most prestigious fellowships for researchers of all nations and disciplines. It sponsors outstanding international scientists and scholars to conduct research in Germany. In addition to the fellowship, the researchers benefit in particular from networking with the worldwide network of Humboldt Fellows.
Researchers from threshold and developing countries also have the option of sponsorship via the Georg Forster Research Fellowship. The condition for this is that their research is highly relevant to the further development of their country.
Several Alexander von Humboldt research fellows are currently visiting the TU Dresden. Despite the pandemic, they were able to start their stay in Germany - in compliance with hygiene regulations and quarantine rules.
Something has to change in the mind and behaviour first before anything changes on the roads.
Jack Asare Awuku, Humboldt Fellow