© Amac Garbe for Stadtluft Dresden
You are here
TU Dresden / "Friedrich List" Faculty of Transport and Traffic Sciences
TU Dresden awards honorary doctorate to Dipl.-Ing. Jürgen Bönninger
Dresden engineer has had a decisive influence on developments in vehicle and road safety. / Passing on his knowledge to young experts in technical inspection of vehicles.
Whether it is the procedure for the TÜV approval of vehicles, the examination questions for the driving licence test or legal requirements for the approval of automatic traffic jam assistants in cars - Jürgen Bönninger (65), a graduate engineer from Dresden, has played a decisive role in all of these topics over the past three decades. Jürgen Bönninger's companions remember him as a "professionally outstanding engineer", a "visionary and sustainable entrepreneur", a "promoter of science" and a "politically committed citizen who courageously stands up for civil liberties and social cohesion".
It was this wealth of decades of commitment that prompted the TU Dresden to confer an honorary doctorate (Dr.-Ing. E. h.) on the Managing Director of Dresden-based FSD Fahrzeugsystemdaten GmbH in a ceremony on 2 June 2022.
For Jürgen Bönninger, the honour at his alma mater is not only a personal tribute, but also "the recognition of the concentration of expert knowledge and experience in the nationally appointed motor vehicle expert sector that has existed in Dresden since 1905". At that time, Prof. Hermann Scheit had founded the first test centre for motor vehicles at the then Technical University and had thus been a pioneer for Germany and Europe. "With the democratic awakening in 1989, the citizens' demand for freedom, democracy and human rights was joined by the appointed Dresden motor vehicle experts' call for independence from state paternalism," says Jürgen Bönninger. "After 1905 under Prof. Hermann Scheit and 1948 under Prof. Alfred Jante, the third new beginning in 1989 - and again in Dresden."
Application submitted by the "Friedrich List" Faculty of Transport and Traffic Sciences
The application for the honorary doctorate was submitted by the "Friedrich List" Faculty of Transport and Traffic Sciences at TU Dresden and approved by the TU Dresden Senate. Jürgen Bönninger has been involved in the field of transport and traffic, especially road safety, for almost four decades. He has outstanding scientific achievements in the field of testing. In March 1990 he founded DEKRA-Ost, Dresden, as a partner together with other colleagues. From 1999 to 2007 he was managing director of the TÜV/DEKRA research association arge tp 21 e. V., Dresden, of which he is also a co-founder (see vita below).
Rector of TU Dresden pays tribute to life's work / Two expert opinions support application
In her speech, the Rector of TU Dresden, Prof. Ursula M. Staudinger, paid tribute to the life's work of Jürgen Bönninger: "He recognised like hardly anyone else how important it is to discuss technical achievements in a social context from the very beginning, so that in the end they actually mean a gain in freedom for people."
Two expert reports by Prof. Lutz Eckstein (RWTH Aachen, Institute of Automotive Engneering) and Prof. Steffen Peldschus (LMU Munich, Department of Biomechanics and Accident Analysis) supported the award of the honorary doctorate in advance. The reviewers paid tribute to Bönninger's scientific achievements. This includes, among other things, editorships and publications as well as the innovative safety testing methods for complex systems in the field of chassis, drive and driver assistance developed under his leadership, including five associated patents.
Commitment to Teaching and Research / Current Topic: Automated Driving
In his laudation, Prof. Dr.-Ing. Günther Prokop, Dean of the "Friedrich List" Faculty of Transport and Traffic Sciences and Head of the Chair of Automobile Engineering at TU Dresden, addressed Jürgen Bönninger's professional work. "He has significantly shaped developments in the field of vehicle safety over the past decades. As a networker, he tirelessly strives to develop and implement regulations for driving licences and the technical inspection of vehicles. Currently, the focus of Mr. Bönninger's commitment is on automated traffic and the automated vehicle. Without the clarity of engineer Jürgen Bönninger, without his sense of social order and freedom, without his commitment, it would be much more difficult to find suitable legislation for this."
Prof. Dr.-Ing. Bernard Bäker, Head of the Chair of Vehicle Mechatronics at TU Dresden, referred in his welcoming speech to Jürgen Bönninger's great teaching commitment as a lecturer at TU Dresden and at other universities: "It is important to him, especially in the training of experts, to impart to the students not only technical competences but also standards for engineering ethics and social responsibility".
Jürgen Bönninger, FSD Fahrzeugsystemdaten GmbH and TU Dresden work closely together not only in teaching, but also in research, e.g. in the research field "Safety in Road Traffic". The results end up directly in practically implemented legislation, regulations and technology. Two joint topics are currently the ABSOLUT project (an automated bus shuttle in the north of Leipzig) and a highly-immersive driving simulator currently under construction (a globally unique instrument for researching human-machine interaction in automated driving). Based on the last one, a joint institute for the approval and technical monitoring of automated vehicles is to be established with "SIVAS - Safety of Networked and Automated Road Traffic".
Civil Rights Activist – audation by former Federal Minister of the Interior Baum
And then there is the person and civil rights activist Jürgen Bönninger. Laudator Gerhard Baum addressed this aspect in his speech. Born in Dresden in 1932, he was Minister of the Interior of the former Federal Republic of Germany between 1978 and 1982. He spoke about Jürgen Bönninger's "extraordinary social commitment", his role in the political turnaround before reunification and his advocacy of civil liberties. For example, in May 1989, Jürgen Bönninger helped expose electoral fraud in the GDR and, as a co-founder of the "Demokratischer Aufbruch[s]" (Democratic Awakening) in Berlin, he was "one of the leading personalities who brought about the Peaceful Revolution of 1989 and ultimately reunification. He rightly sees himself as an enlightened, ever vigilant democrat and upright fighter for freedom rights and fair dealings in society," said former Federal Minister Baum.
About Dr. Dipl.-Ing. E. h. Jürgen Bönninger
1957 born on 23 May in Leipzig
1977-1982 Studied mechanical engineering at the Technical University of Dresden, graduating as Diplom-Ingenieur (graduate engineer)
1982-1990 Motor vehicle expert for national and international type approval at the Motor Vehicle Technical Office/KTA of the GDR (Dresden)
1989 Together with other civil rights activists, he founds the Initiative Demokratische Erneuerung (IDeE) in Dresden and later co-founds the Demokratischer Aufbruch (DA) in Berlin.
1990 Participates as a partner in the founding of DEKRA-Ost, Dresden
since 1990 Deputy Head of the Technical Inspection Department of DEKRA e. V. (Dresden)
1990-2000 DEKRA Head of Department Testing inter/national/AP 8 (Stuttgart/Dresden)
1999-2007 Co-founder and managing director of the TÜV/DEKRA research association arge tp 21 e. V., Dresden. Building on this, he is driving forward the establishment in favour of a company to be founded for the further/development of test technologies and equipment for vehicle electronics.
since 2004 Managing Director of FSD Fahrzeugsystemdaten GmbH (Dresden) with all major monitoring institutions (ÜOs, TPs) in Germany (with 200 employees today)
2006 Start of the preparation and provision of test specifications for the examination of electronically controlled safety systems in motor vehicles as well as their trailers (implementation of the 41st ÄndVStVR)
2008 Opening of the FSD test laboratory in Radeberg for the development of test specifications and test technologies
2012 Transfer of the tasks of the Central Body according to § 6 StVG to FSD Fahrzeugsystemdaten GmbH by the Federal Ministry of Transport and Digital Infrastructure in the course of the 47th Amendment to the Road Traffic Act; in addition to the preparation and provision of specifications, FSD also becomes the central hub of the so-called main inspection knowledge management, in which findings from the examination of vehicles flow back to the KBA, the BASt and the vehicle manufacturers.
Awards
2012 Awarded the Karl-Rederer-Prize of the German Driving Instructors Academy/ DFA (Stuttgart) for his services to road safety and improvements in the field of driving training and examination procedures
2019 Awarded the Benz-Daimler-Maybach Medal of Honour by the VDI Society for Vehicle and Traffic Engineering for outstanding commitment in the field of road safety
Jürgen Bönninger – Research & Teaching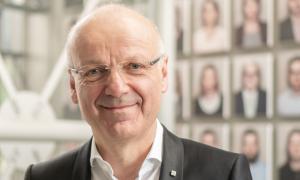 Since 2004, supervision of dozens of diploma and master theses on topics such as exhaust gas aftertreatment, anti-lock brakes, electronic damper controls, vehicle dynamics controls, FAS, camera-based environment sensor technology, measurement technology, windscreen wear, testing of electronically controlled systems, etc.
Since 2012 Lecturer for expert witnesses at the Faculty of Mechanical Engineering/Process Engineering at the University of Applied Sciences (HTW), Dresden
Since 2013 Member of the Advisory Board of the Vehicle Safety and Traffic Accident Research course at Dresden International University (DIU)
2015 Productive introduction of the HU-Adapter (HUA), a testing device tailored to the needs of regular technical inspections using the electronic vehicle interface, which is still unique worldwide; since then, expansion of the testing technologies using the internal sensor technology of the HU-Adapter and/or the information of the electronic vehicle interface (e.g. for the reference brake force test, dynamic brake effect test, axle damping test.
Since 2018 Lecturer for Expert Witnesses at the "Friedrich List" Faculty of Transport and Traffic Sciences at Dresden University of Technology
Jürgen Böninger recognised like hardly anyone else how important it is to discuss technical achievements in a social context from the very beginning, so that in the end they actually mean a gain in freedom for people.
Prof. Ursula M. Staudinger, Rector TU Dresden