You are here
Chairs of Transport Ecology, Automobile Engineering and Traffic Process Automation
MOTUS project investigates mobility in day-to-day-life
As part of a research project on mobility transformation, a nationwide online survey on mobility habits started in mid-June.
The nationwide online survey, which deals with various questions on mobility habits, is part of a research project on mobility transformation conducted by the universities of Kassel and Dresden. At the TUD, the chairs of Transport Ecology, Automobile Engineering and Traffic Process Automation from the "Friedrich List" Faculty of Traffic and Transport Sciences are involved. The project is funded by the German Federal Ministry of Digital and Transport for three years.
Participants in the survey are asked to provide information about their preferences and attitudes regarding various modes of transportation as well as their everyday transportation habits. The survey will run from June 12 to July 31, 2023 - ten vouchers worth 25€ each will be raffled among all participants.
The goal of the project is to develop a simulation platform that can provide a holistic view of urban transportation systems and its actors in order to describe the changes in behaviors in and after disruptive events. In times of COVID, for example, familiar roads ceased and new modes of transport entered the scene. Professor Angela Francke, alumni of TUD's Transportation Economics and head of the Department of Cycling and Sustainable Mobility at the University of Kassel, explains: "Our survey is intended to help us better understand and model the mobility behavior of the population, especially in unfamiliar situations." 
In this way, the researchers also want to find out which impacts disruptive events have on the resilience and sustainability of transport systems. Particular attention is being paid to the COVID pandemic, the changing climate, and structural change in brown coal field regions.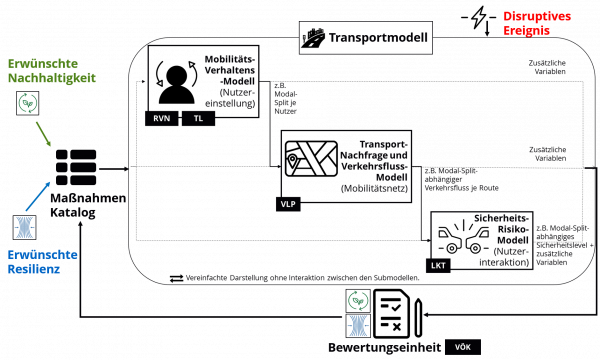 Contact Person TUD
Dipl.-Ing. Maximilian Bäumler
Chair of Automobile Engineering
Dresden Institute of Automobile Engineering (IAD)
"Friedrich List" Faculty of Traffic and Transport Sciences
E-Mail: maximilian.baeumler@tu-dresden.de
Contact Person University of Kassel