You are here
Chair of Transport Ecology
Municipal cycling planning via Open Data
Transport and Traffic scientists at TU Dresden develop web tool for forecasting the utilization of cycling infrastructure in the "bikeSim" project.
The promotion of cycling is currently at the top of the agenda for many municipalities in Germany. The reduction of noise and pollutant emissions as well as the contribution to climate protection and the generally higher quality of life and attractiveness in the cities are the primary goals. For municipalities, it would be a great help to be able to assess the impact of potential measures in advance and thus prioritize the use of often scarce municipal budget resources.
This is where the web application "bikeSim" comes in. It allows municipalities to change the characteristics of route sections in the (bicycle) traffic network for a plan case and simulate the use of bicycle lanes in their (bicycle) traffic network. From this, conclusions can be drawn for the redesign and further development of the cycling network. The application is based on GPS route data and open geo and traffic data (Open Data). The web application was initially developed as a prototype for the city of Dresden as part of a feasibility study.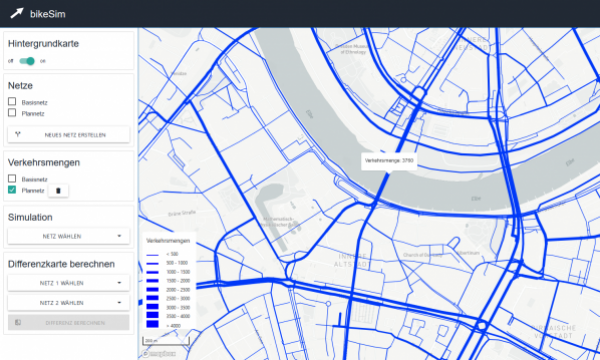 © Chair of Transport Ecology
The results of the simulation are visualized in the form of a traffic volume map (plan-case). The number of trips on a section of road are displayed during the selection.
Researchers from the Chair of Transport Ecology at the "Friedrich List" Faculty of Transport and Traffic Sciences at TU Dresden were involved in the development together with the Dresden-based start-up Cyface. The research project ran from November 1, 2019 to April 30, 2021. The official project conclusion took place on May 20, 2021 via online event.
A continuation of the development work is intended in subsequent research projects. The goal is to extend the web application, to make the approach transferable throughout Germany, and to assure the quality of the results in cooperation with cities and municipalities.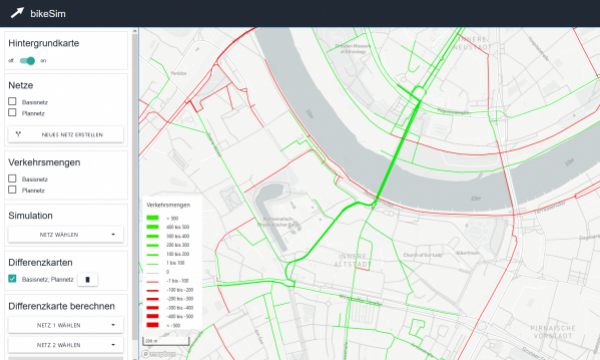 © Chair of Transport Ecology
For a better visualization of the differences between base case (actual state) and plan case a difference map can be generated. It shows where more/less cycling takes place due to the change.
The "bikeSim" project was funded by the Federal Ministry of Transport and Digital Infrastructure (BMVI) as part of the mFUND innovation initiative with a total of 85,000 euros.
About the mFUND of the BMVI
As part of the mFUND research initiative, the BMVI has been funding research and development projects related to data-based digital applications for Mobility 4.0 since 2016. In addition to financial funding, the mFUND supports networking between stakeholders from politics, industry and research with various event formats and access to the mCLOUD data portal. Further information at: www.mfund.de
Contact person for "bikeSim"